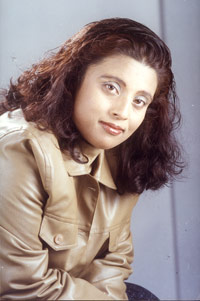 Popular Playback Singer
A destined singer, Sapana Shree has contributed hundreds of modern songs and songs for feature film
Date of birth-2028
Born in 2028 (Bikram Era), Sapana Shree was privileged to be groomed in an environment conducive to nurture her innate talent for singing. Her father Madan Pariyar was a famous music composer who taught her the fundamentals of music and encouraged her to sing. Impressed by her flair for singing, famous singers, musicians and lyricists, who gathered at her house for practice sessions or discussions, requested her to sing.
The tender age or the school curricula and assignments were no barrier for Sapana Shree to move ahead in her destined career. At the age of ten, before her voice matured she recorded her first modern song 'Tolai Baschhu Kahile Kahin'. Devoted Sapana Shree utilized the privileges she had enjoyed in the most optimum way. It is this persistence and devotion that has led her to this position today.
Today, the audience knows Sapana Shree for her forte in playback singing. She has sung equally large number of modern songs saying that she prefers herself to be identified as a modern song singer.
Started play back singing at a young age, Sapana Shree sang six translated Pakistani songs for the translated film 'Sahas' at the age of thirteen or fourteen. The first Nepali film she sang for is 'Cheli' for which she had sung the song 'Gaunbhari Bajirahyo.'
Her skills to sing in a way that suits the actress and situation in the movies have attracted many producers. She – who has already sing songs for more than one hundred films- is probably the most sought after female playback singer of this era in Nepalese film industry.
Sapana Shree, whose songs are collected in dozens of collection albums, has got three albums solely to her credit and is preparing for the forth one. She has more than 600 songs of all genres on record.