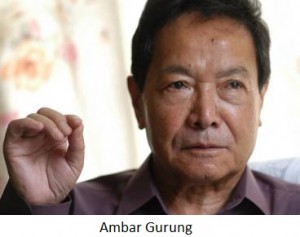 Date of Birth- February 26, 1938
    Birth place-Tanahun district
    Father Ujir Singh Gurung
Amber Gurung was passionate about music from his early childhood. His father never approved of this interest but his mother encouraged him. He started composing and singing during his schooldays, which won him recognition and many music awards. (See article, "Faslow Bhaiya.") He is a self taught musician who learned both western and eastern classical music entirely on his own. He taught himself to play violin, piano, guitar, mandolin, tabla and several other instruments.
In the 1950s Amber Gurung started a music institute, The Art Academy of Music, in Darjeeling, where famous musicians and singers such as Aruna Lama, Sharan Pradhan, Gopal Yonzon, Peter Karthak, Indra Gajmer, and Ranjit Gajmer to name a few, learned under his guidance. His first recorded song 'Nau Lakhe Tara' (1960?) made waves throughout the Nepali world, both in Nepal and India. This song about the suffering of the Nepali diaspora is considered a masterpiece of both lyrics (by Agam Singh Giri) and musical composition. Many other songs recorded in the 1960s on 78 speed vinyl records helped make him one of the main architects of modern Nepali music.
Amber Gurung joined the Folk Entertainment Unit, Government of West Bengal, Darjeeling as Music Chief, from 1962-1965. He became disillusioned with the bureaucracy (?) and resigned from the post in 1965, but continued to write music and do stage shows both in Nepal and India. In 1967 he joined the prestigious Dr. Graham Homes School (?) as a Music Teacher. In 1968 he was invited by then King Mahendra of Nepal to return permanently to Nepal to establish and chair the music department of the newly founded Nepal Academy of Arts. He served as Music Director for nearly 30 years.
In 2007, Amber Gurung was invited by the Government of Nepal to compose the music for Nepal's new national anthem. He continues to compose, teach music to select students, and is currently revising a tutorial music book for publication.
Awards
Uttam Shanti Shahitya Puraskar (2007)
-Kantipur FM Lifetime Achievement Award (2006)
– Hits FM Lifetime Achievement Award (2001)
– Madhurima Phulkumar Mahato Puraskar, Kathmandu (2000)
-Tuborg Outstanding Award (1999)
-Image Award, Image TV, Kathmandu (1999)
– Jagadamba Shree, Kathmandu (1998)
– Bhupal Man Singh, Kathmandu (1998)
-Sha-Shanka, Jhapa (1996)
-Giri Puraskar, Darjeeling, India (1994)
– Golden Flute Award (CEDOS), Sikkim, India (1993)
– Indra Rajya Laxmi Pragya Puraskar, Kathmandu (1987)
-Chinalata Puraskar, Kathmandu (1983)
-Gorkha Dakshin Bahu, Kathmandu (1971)
-Gold Medal Radio Nepal, Kathmandu (1970)