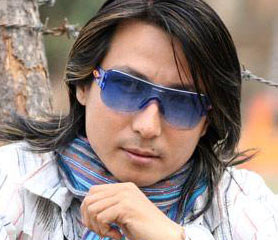 Dhiraj Rai have been related and working in the field of "Music". Within such a long period, he brought 8 albums and still he is working for his 9th album. He is not only related to music, also he is related to Engineering field with his occupation and he feels good to involve in both fields. Since the time when there was no pop music till the time when pop music has brought revolution in the country, Dhiraj Rai is still in this field with his lots of fans and well wishers.
Dhiraj Rai, Mysterious boy, dancing boy, Michael Jackson of Nepal, whatever we call these all names represents him. Moreover he present in the stage shows. So he performs his songs along with his dance. So, he is called as Nepalese Michael Jackson. Talking about his entrance in the music field initiates with his school " Bhanubhakta Memorial Boarding School, Kamalpokhari", he used to sing and even he used to act in various Plays. So, he involved himself in the music field. But his origin in this field took place from plays. He too had acted in few Tele films, Video Films and another thing is that he is also becoming an actor. He is working in his musical film named " Awaaz" directed by Suraj Subba.
He is now working for his new album which he thinks to bring in the market during new year 2059. His new song " Himal Najhuke Samma" is a special for him as well as for his fans. The reason is that the song is old one, but he has remade it by music acoustic instruments in place of Synthesizer and is recorded unplugged with the help of the musicians from Little star music school. Its music video is also can be watched within few days. He is also known as the singer who makes many music videos. He has made lots of music videos in Image Channel Nepal, Nepal Television and Drishya TV also. We wish Dhiraj Rai for his new album and for his future in the music career.