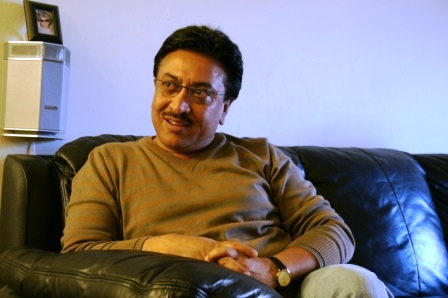 Shambhujeet Baskota
Date Of Birth: B.S. 2013/12/02 (1957/03/15)
Birth Place: Kathmandu, Nepal
Address: Maharajgunj-3, Kathmandu, Nepal
Qualification: B.Muc. (Pragya & Sangeet), B.A.
Occupation: Music Director, Singer, Writer
EXPERIENCE:ENTERED AS A SINGER AND MUSIC DIRECTOR IN 1971
WORKING AS A CHIEF MUSIC DIRECTOR AT ROYAL NEPAL ACADEMY
COMPOSED MUSIC IN VARIOUS DRAMA ORGANIZED BY ROYAL NEPAL ACADEMY AND OTHER ORGANIZATIONS.
MUSIC COMPOSITIONS IN MORE THAN 250 NEPALI FEATURE FILMS, MORE THAN 700 NEPALI MODERN SONGS, FOLK SONGS AND BHAJANS.
RECEIVED GOLD MEDAL IN DRAMA, SONGS AND SPORTS BY LATA KING BIRANDRA, ORGANISED BY BAL MANDIR.
PARTICIPATED AS A SINGER IN THE "GOLDEN KITE FESTIVAL" AT 1981.
WRITER AND MUSIC DIRECTOR OF TV ADVERTISEMENT AND RADIO JINGLES, WHICH ARE MORE THAN 1100 IN NUMBERS.
CREATION OF NTV NEWS MUSIC AND LOGO MUSIC
MUSIC DIRECTOR HINDI FILM " SANJEEVANI"
PARTICIPATED IN VARIOUS CONVENTION AND PROGRAMS IN INTERNATIONAL COUNTRIES SUCH AS : HONGKANG, , , , , , AND
PARTICIPATED AS A GROUP LEDER IN THE PROGRAM "NAMY-FEST" AT "NEW-DELHI" 1985.
STORY WRITER OF ALMOST 12 NEPALI FEATURE FILMS.
SLOGAN WRITER OF CANCER RELIEF SOCIETY AND TITLE WRITER " AMULYA JEEWAN DHUWAMA NAUDAU".
CREATOR OF 59 SONGS IN THE FIRST MUSICAL FILM " GAUNTHALEE" WITH DIFFERENT TUNES IN THE HISTORY OF NEPALI FILM.
MUSIC DIRECTOR OF NEPALI HISTORICLA MOVIES SUCH AS : "PREMPINDA", "BASANTI" AND "SEEMA-REKHA". SIMILARLY BACKGROUND MUSIC DIRECTOR OF NEWARI FEATURE FILM "RAJMATI".
CREATION OF NTV METRO NEWS MUSIC AND LOGO MUSIC.
AWARDS:

BIKHYAT TRISHAKTI PATTA.
PRABHAL GORKHA-DAKSHIN BAHU (1992).
NARAYAN GOPAL SANGEET PURASKAR.
TOYAN JAYCEES PURASKAR.
LUX-CINE AWARDS (2003).
CHHINNALATA PURASKAR (1995).
ABHIYAN SHREE PURASKAR (1993).
BUSY AWARD.
MOTION PICTURE AWARD (1998, 2000).
YOUTH OF THE YEAR PURASKAR.
RAJYAVISHEK SWORNA PADAK PURASKAR.
GAI-JATRA MAHOTSAV, NE.RA.PRA.PRA (R.N.A.) BISISTHA PURASKAR ( 1984, 1985, 1986, 1987, 1988, 1989 ).
SANMIGUEL MUSIC PURASKAR 2000.
NATYASWORI STHAMBHA PURASKAR 2000
KOLLYWOOD CINEMA PURASKAR (1995,1996,1997,1999).
NARAYAN-GOPAL RASTRIYA PRATIBHA PURASKAR (2000).
SAMMAN (2001).
LIFE-TIME ACHIEVEMENT MOTION PICTURE (2001).
SHREE-PANCH BIRENDRA AISHWARYA SEWA PADAK (2001).
NEPAL CINEMA ARTISTS ASSOCIATION SAMMAN (2001).
SHREE-PANCH BIRENDRA SEWA PADAK (2002).
HITS F.M. MUSIC AWARD (2003).
TELEVISION SANTHAPAK SAMMAN 2003 AND MANY MORE COMPLIMENT AWARDS.
NARAYAN –GOPAL AWARD 2006 LUNKARAN GANGA DEVI TRUST.
SHIVA SHNKAR MUSIC AWARD (2006).
RUPAK SMARITI AWARD (2006).