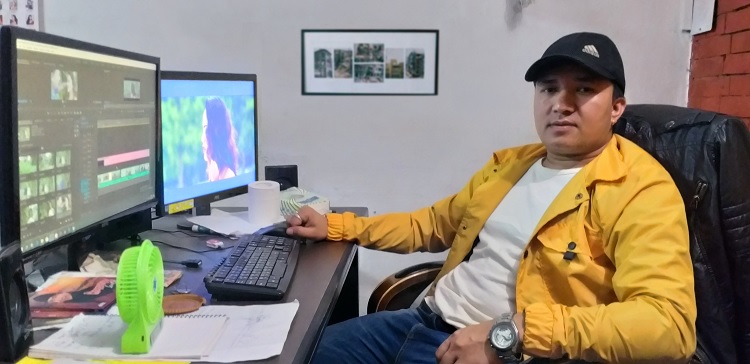 Journey of Bishnu Khadka
Introduction
Bishnu Khadka is a renowned name in the Nepali art field, having made a significant impact over the past fifteen years through his active involvement in Nepali music, film, and editing. His deep passion for his work is evident as he spends approximately 13-14 hours daily on the computer, constantly striving to learn and enhance his skills. With his remarkable talent as an editor, Khadka has played a vital role in creating stunning music videos, seizing every opportunity to grow and contribute to the industry.
Bishnu Khadka, born on March 10th in Bhakanje SagarDanda, Solukhumbu, Nepal, is the youngest son of Birkha Bahadur Khadka and Nakkali Khadka. Growing up in the Everest region of Solukhumbu District, he developed a keen interest in the arts from a young age.
In recent times, Bishnu Khadka has gained recognition for his popular songs such as "Jail Pani Sahula," "Rumalai Chino D," and "Pani Ko Phoka." He has also showcased his talent in over 1,000 music video edits, color corrections, and poster designs. Additionally, he has worked as an editor for several feature films. With his busy schedule, the song "Jail Pani Sahula" has become a sensation, propelling Bishnu Khadka into the limelight as a prominent figure in the world of video editing.
Career Beginnings
Initially, Khadka worked as a director, acting alongside his friends under a pseudonym. However, recognizing the necessity of consistency in video editing, Khadka made the decision to reveal his true identity. His inclination towards being a music video editor within the realm of music and video production became clear. Khadka obtained a diploma in digital filmmaking from Erina Multi-Media Academy, which paved the way for him to embark on his career. Joining the esteemed Tri-Beni Films Nepal, Khadka gained invaluable experience, including his first forays into action cuts and editing.
Role as a Music Video Editor
letter of honor from former Deputy Prime Minister Rajendra Prasad Lingden and AIG Chandra Prakash Gautam
As a music video editor, Bishnu Khadka undertakes various tasks, including coordinating with a team to capture footage and seamlessly adding and synchronizing sound and visual effects. He is responsible for color correction, editing, trailer production, and even poster design. While these tasks are usually divided among different individuals, in the case of music videos, Khadka often takes on multiple roles. He highlights the growing prominence of music videos in the digital era, which has also led to the trend of creating accompanying posters. Thus, Khadka willingly undertakes the responsibility of designing posters alongside his video editing work.
Challenges and Obstacles
Challenges Faced by Bishnu Khadka in His Career
Bishnu Khadka has faced several challenges in his career. He has had to work hard to establish himself in the competitive industry.
How He Overcame These Challenges
Bishnu Khadka overcame these challenges by staying committed to his work and learning from his experiences.
Lessons Learned From These Experiences
Bishnu Khadka's experiences have taught him the value of perseverance, dedication, and hard work.
Current State of Nepali Music
Discussing the current state of Nepali music and songs, Khadka notes the shift away from traditional means of music consumption, such as selling cassettes and CDs. Digital platforms have taken center stage, creating opportunities for those who understand and adapt to the digital landscape. While some individuals thrive in this environment, others face challenges. Nevertheless, those driven by their passion for music continue to create and upload videos on platforms like YouTube, resonating with audiences and leaving a lasting impact.
Awards and Achievements
Bishnu Khadka's work has won the hearts of everyone, and he repeatedly receives appreciation for his contributions to the industry. He has successfully received several national awards for his outstanding work, including:
Best Video Editor Award at the first and third Jyoti Film's Music Awards
Best Video Editor Award at the Birat Film's Music Awards
Best Video Editor Award at the second OS Nepal Music Awards
Best Video Editor Award at The A.M.S National Honor and Award 2079
Best Video Editor Award at the Himalayan International Music Awards
Best Video Editor Music Award at the Box Office Music Awards
In addition, Khadka has also received the National Musician Association's Honor 2080, the Booster Music Award for Artist Appreciation, the Blockbuster Nepali Film Award 2077, the Sandhya Foundation's and Pha Pare Films Honor. This is a significant achievement for a creative individual, isn't it?
Bishnu Khadka's passion for his work, dedication to his craft, and remarkable talent as an editor has established him as a well-known figure in the world of video editing. As he continues to create stunning music videos and leave a lasting impact on the Nepali art field, there is no doubt that his contributions will be remembered for years to come.
Conclusion
Bishnu Khadka's career and contributions to the Nepali music and film industry are an inspiration to many. His innovative techniques and unique style have set a new standard for quality in Nepali films. His legacy in the industry will continue to inspire future generations of filmmakers and editors.